Here at Centerpoint we work with hundreds of Roofing Contractors across the US and Canada and get to learn about their businesses. Much of what we offer is outside software, its sharing best practices learned along the way. One of the biggest things a contractor can do to create a recession proof roofing company is diversify. By diversifying your offing you are not putting all your eggs in one basket, i.e. Roof Replacements, or Projects. If you are able to offer a full range of products that align with the entire lifespan of a roofing system it puts you in a better position to not let the market dictate what you do in sales. When the market starts to decline the first thing to go is the large jobs, the capital projects. What typically remains is the small jobs or repairs. We view this as a form of client retainage while still being able to make a good profit.
Where other Roofing Contractors are focused on roof replacements and big projects, it leaves the door open to operate under the radar and capture customers through smaller ticket items that will eventually lead to bigger ticket items. It all starts with a Roof Inspection where you understand the current makeup of the Roof, what it looks like, what all the roof repairs are, the life expectancy, and what the grading would be. If you are prepared to lay out all your cards on the table in front of your customer, and be willing and able to complete repairs, replacement, or a restoration you're off to a good start. The majority of Roofing Contractors offer roof replacements as a lead in, but it doesn't always fit the building or the needs of the customer. 
A full service roofing company should be able to offer leak response, small and large repair jobs, restoration, and roof replacement. By positioning yourself this way it becomes much more appealing to your customers that you can respond with any possible need they may have with their roof. You provide them with a one stop shop and solve all of their problems by being the one stop shop. Traditional roofing contractors who only offer roof replacement may not be around after the roof is installed and it ends up leaking. Depending on the types of customers you have the sales strategy may shift but by offering all of these services really can make you recession proof.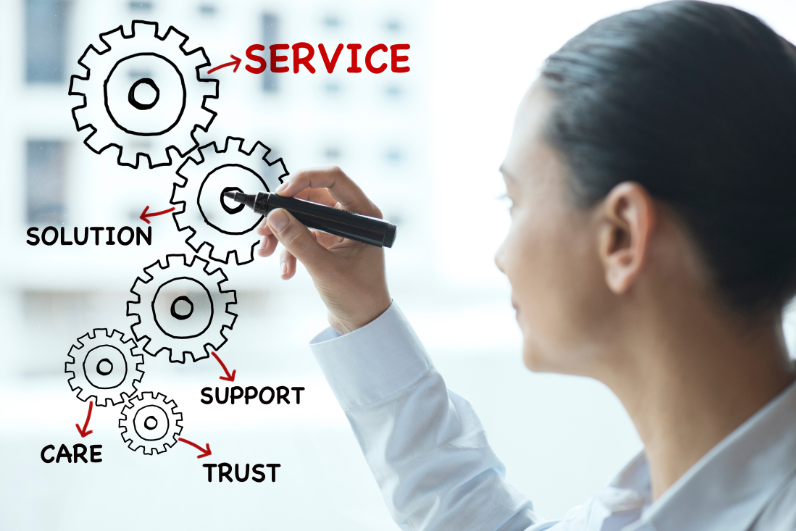 If you really want to grow your roofing business through a proven model consider growing through a service leading initiative. When the lead into a new customer is a small ticket item it's much easier to sell and sets you up to be able to retain the customer. Not every contractor gets excited about a small repair but when you solve a small need for a customer, or even a new customer, you are putting yourself in a good position for the future. If you were to sell a small repair or fix a leak for a new customer you really accomplished 2 things:
Took care of a potentially massive issue for a customer, although it may seem small compared to what you can do.
Set up a new customer in your accounting system, as well as you being set up in their system.
When you are set up in a new customer's accounting system you're poised for future transactions and they will lead to much larger jobs. Here's a scenario, say you just fixed a leak for a new customer and sent them the bill. 3 months later they get another leak in a different area of their roof. They go to their accounting system or vendors list and search for "Roofer". You will now show up which is much easier to keep doing business with someone they have already done business with. 
The more service work you do the more clients you have, and the more capital projects you will have as a result. The commercial roofing contractors who understand this are heavily focused on growing their businesses through service which as a result, grows the capital project side of their company. They realize there is a direct correlation between the amount of service dollars they bring in vs the amount of re-roof dollars they bring in. In order to grow this way we have to be able to diversify our offering!
If you are offering all these services you should have some systems in place to be able to track where everything is at, and be able to access each opportunity or job quickly. There's a lot of moving parts and Centerpoint Connect can drastically simplify the process. Centerpoint can be thought of as tools in your toolbelt to help get the job done (CRM, Inspections, Proposals, etc) or Centerpoint can be a business model to implement. With custom workflows or out of the box industry standard workflows, we make it easy for you to get up to speed and fully implement our Roofing Contractor Software. 
All incoming opportunities to go out and visit roofs begin as an "Opportunity" input directly into Centerpoint. Take that lead and assign it to the sales rep, estimator, or inspector and they will use their mobile device to document their findings on site. Turn the opportunity into a roof repair quote that converts into a service job to schedule, complete, and invoice. You could also turn that same opportunity into a project and schedule it out, complete the job, and close it out all in the same system. 
Many roofing contractors that were already offering full service options to their customers not only survived through covid shutdowns but they were able to still turn profits. By creating a recession proof roofing company you are not reliant on incoming bid opportunities, they come from your existing customer base. If you can build up a big enough customer base that you regularly check in with, take care of, and service, your company will see consistent revenue.