Choosing the best commercial roofing software for your business is an important decision. Not only does it mean selecting the right tool for your specific needs, it also means taking into account the various features, prices, and customer support options available. With the right software, you can streamline operations, improve customer service, and maximize profits. With the wrong software, however, your business may suffer. That's why it's important to research and understand the different types of software available and how they can work for you. In this article, you'll learn how making the best choice when selecting commercial roofing software for your business. We'll discuss the different features to look for and how to evaluate the customer support options. By the end of this article, you'll be well-prepared to make an informed decision and choose the best commercial roofing software for your business.
What is Commercial Roofing Software?
Commercial roofing software is typically a web based solution that streamlines and automates business processes. It's used in a wide range of industries, including roofing, construction, insurance, and more. Commercial roofing software can include project management tools, customer relationship management (CRM) functionality, sales management, service management, workflows, and more. Depending on your specific needs, you can find a variety of solutions designed for roofing companies.
The main categories of Roofing Software would be Commercial vs Residential. Commercial Roofing Software should have a hierarchy built in that accommodates a customer who has multiple buildings, and on those buildings are roof sections. A Residential Roofing Software should be focused on an owner with an address. Both hierarchy examples should be able to accommodate your sales processes, service processes, and production processes.
Different Types of commercial roofing software
There are several types of commercial roofing software to consider. They include project management, customer relationship management (CRM), photo management, estimating, safety, and timekeeping. Depending on your specific needs, you can find a solution designed for roofing companies. When you choose the roofing software, you'll streamline operations, increase efficiency, and improve profitability. With the right software, you can also provide better customer service, attract new customers, and retain existing ones. By investing in a Commercial Roofing software that does it all, you can save time and reduce hassle from working out of multiple systems. 
Key features to look for in commercial roofing software
Before selecting commercial roofing software, you should understand the features and functionality that matter most. Consider the following: – Ease of use – Whether you're hiring new employees or training existing ones, you want software that's easy to learn. Look for commercial roofing software that's intuitive and easy to navigate. It should include step-by-step tutorials and be designed for simplicity. – User interface – Does the software offer a wide range of customizable options? Does the user interface feel modern and sleek? Does it have a modern, intuitive design? A great user interface will make using the software enjoyable. It should also help you organize and streamline operations. – Integrations, does the software support accounting integration or other systems? This can be really important, especially for larger contractors that need to see the most current information.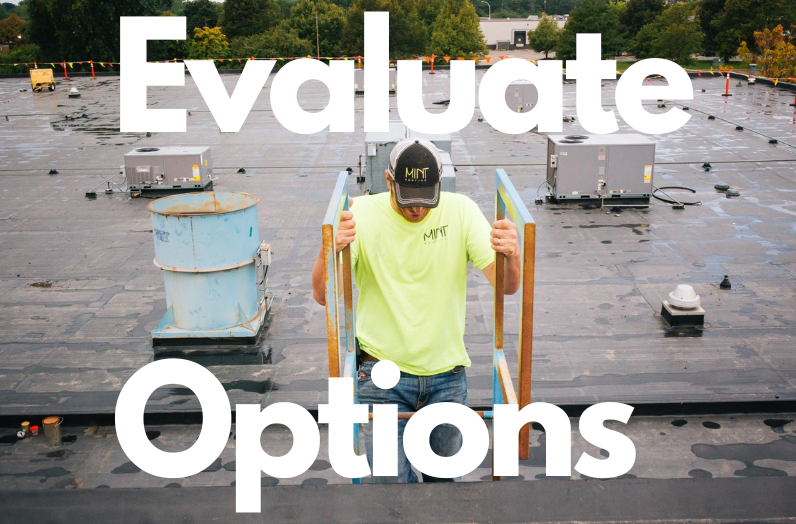 Evaluating customer support options
When selecting commercial roofing software, it's important to understand how the company will support you. You want a solution that comes with comprehensive support options. Look for a roofing software that includes access to customer support via phone, email, online chat, and video conferencing options. This will help you easily communicate with the software provider and troubleshoot any issues that arise. It's important to select a commercial roofing software provider that offers a wide range of support options. This way, you can reach out to the team and receive assistance however you need it. The best commercial roofing software providers are also willing to take your feedback into account and continue to develop the software. They want to make their software as useful and intuitive as possible. For this reason, they'll welcome your feedback and suggestions. This will help you get even more out of the software and maximize its benefits.
Cost considerations 
Choosing the right commercial roofing software can be expensive. You want to select a solution that meets your specific needs while staying in your budget. Before selecting a commercial roofing software solution, take your budget into account. Create a shortlist of potential solutions and compare their price tags. Look for a solution that meets your needs but is also within your budget. You can also shop around and look for a roofing software discounts. Some providers offer discounts for new customers, so you may find a solution at a lower price than expected. The other cost to be aware of is the time and effort it will take your company to implement the software. Make sure you are fully aware of what all the features are and how your business will actually use the commercial roofing software before you buy. If you end up purchasing a roofing software that doesn't fit, it's not just the money that was wasted, it was all your resources to implement the software. 
Comparing different roofing software
Before you decide on a choosing a roofing software solution, you should compare a few options. This will help you select the best solution for your business. You can use a shortlist of potential solutions to come up with a list of questions. This can help you narrow down your options and find the best commercial roofing software solution for your business. You can ask the following questions when comparing different roofing software solutions: – What is the solution's functionality? – What features does the solution offer? How does it help you organize and manage your business? How does it help you provide better customer service? – What is the solution's price? – What is the total cost of ownership? What is the one-time cost of purchasing the solution? What is the monthly cost of using the solution? – Does the solution meet your technical requirements? – Does it run on the software or infrastructure that you're currently using? Is it compatible with your current computer systems?
Benefits of using Centerpoint Connect's 
Centerpoint is a full front end solution to your roofing business meaning, it's designed to be the main tool that your admin and back end office users utilize, that connects into the field where the work takes place. It will help streamline the sales process, service, process, and production processes by connecting everything together in an entire company workflow. This creates accountability, visibility, and forms into a business model that is repeatable. Centerpoint is very customer focused which puts your company in a strong position to retain clients and be able to continue to extract sales opportunities from your client base. With an easy to utilize roofer friendly interface, field data capturing is quick and easy. When the field data is captured either through service work, sales reps visiting roofs, or project managers documenting the day of work, everything populates the software in real time keeping everyone on the same page.