Roofing services such as leak response, roof repairs, and maintenance are arguably the fastest growing segment within the commercial roofing industry. Roofing service and repairs have helped many contractors, as it has been critical to many, to sustain business during the most recent pandemic. During this pandemic, we have been shown that providing the service we can offer a lot more to our customers as well as retain clients. Contractors realize growing through service helps stabilize the business and even become recession proof. If you are already providing these types of services, then you know it is not only profitable but highly transactional, especially if you do a lot of roofing service repairs.
By offering commercial roof repairs and maintenance it certainly leads to a profitable revenue stream, but could also lead to bandwidth issues, lost profits, and upset customers if not done correctly. Best practices tell us if we were to respond to a building owner's leak, we need to be timely, communicative, and provide quality work. While all this may come easy to most commercial roofing contractors, the coordinating and the communication components is the most difficult to solve. If you look at a leak, call for example, there are several touch points throughout the process. Customer calls or emails you with a leak request, we need to open a work order or create a ticket. The service manager needs to be given the job so they can schedule the crew. The customer needs to be called or contacted to coordinate a time, so the crew can produce the job. We need to record our travel, labor, materials, and also document the work performed on site. When the job is completed, we need to let the customer know and then follow up with an invoice. Without a roofing scheduling software these are a lot of steps to complete, and is why most contractors stay away from the service.
Roofing service scheduling is difficult because of all the moving and evolving parts, there are so many changes and without a roofing software connected to all those answers, it's a big challenge to manage. Centerpoint Connect's service and production scheduling is built into the CRM and is attached to the customer, the service manager, and the technician so no matter who makes changes to the jobs it all updates in real time. If a customer of yours calls to get an answer on when their job is going to be completed, or when the crew is expected to be on site, everyone on your team can give the same answer because the information is in the system. 
Commercial roofing service software should handle all the touch points and help you connect the dots through a proven industry standard roofing service workflow. With Centerpoint, as the work order comes in, notifications are sent to all parties and informs the service manager of the new job. As we schedule the service job within the system, we not only send all the details of the crew, but we also communicate back to the customer when we will be there and also when we are on our way. With the increase in communication, we tend to see happier customers, jobs produced faster, more visible, and gained efficiency. As your roofing technician completes the repairs on site Centerpoint will automatically collect all travel, labor, materials, purchases, and repairs, and generate an invoice for your approval.
Learn Why Centerpoint Connect Considered As Your New Best Roofing Scheduling Software
Drag and Drop Scheduling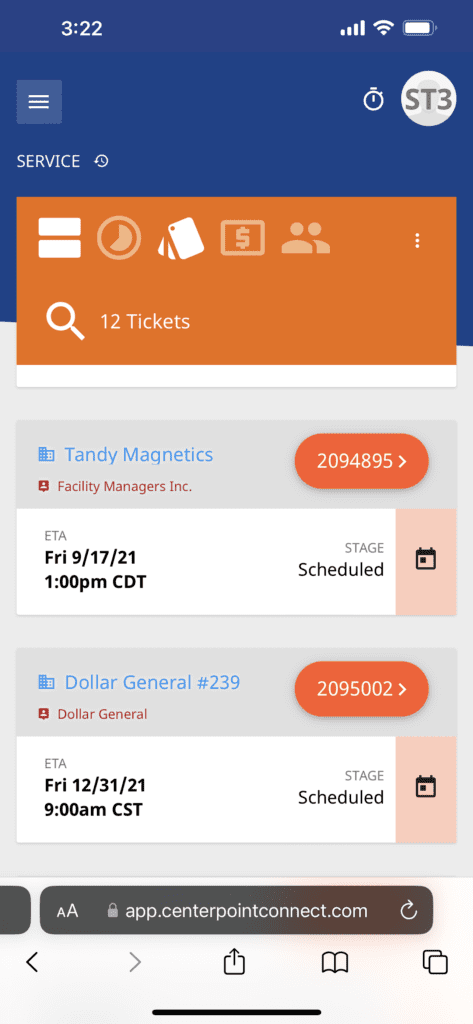 Quickly view all leaks, warranty, scope, maintenance, or other types of work orders in your backlog and be able to see all available resources in one view. Service schedules are constantly changing and being modified, much of the information on the schedule typically exists in one person's head. The challenge is making the process easier and more streamlined so everyone, including your customers, is on the same page. Jobs get shifted around, customers change their mind, so many things can change on the roofing, repair and maintenance end of the business, you need to have a roofing scheduling software that can adapt.
Mapping and routing roofing jobs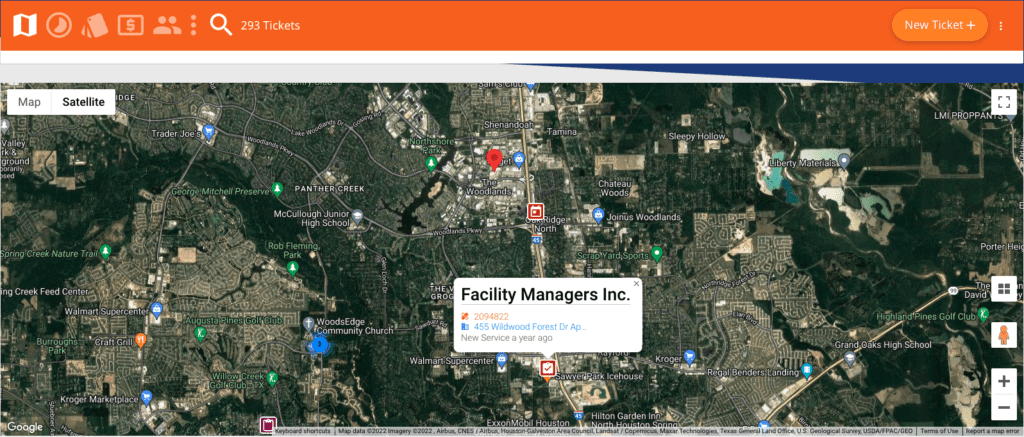 When things change, we need to adapt, and often that means moving roofing crews from one job to another. Centerpoint Connect Roofing Software provides a live map that shows geographically where all the roofing jobs are located and the current status. With this level of information we can make decisions on the fly to get the job done and keep the client happy.
Alerts and scheduling, notifications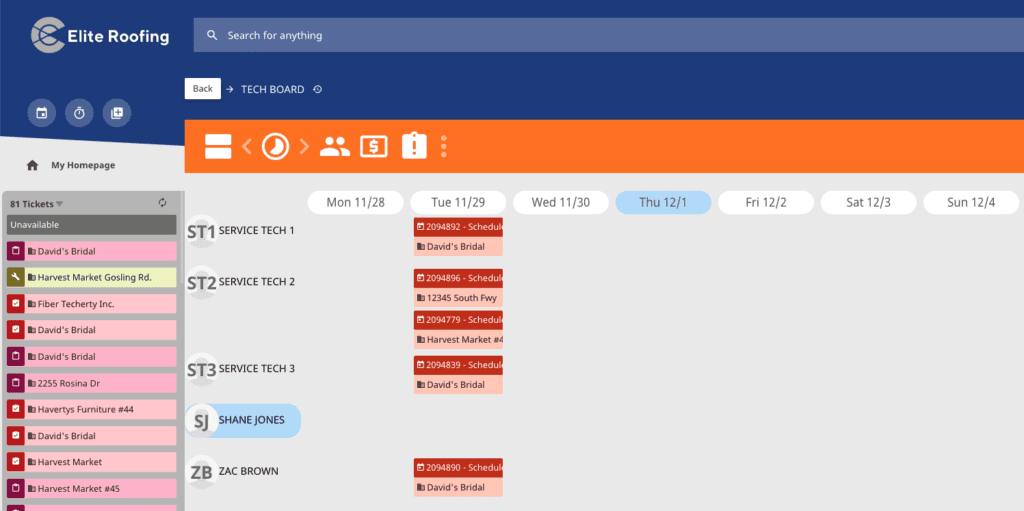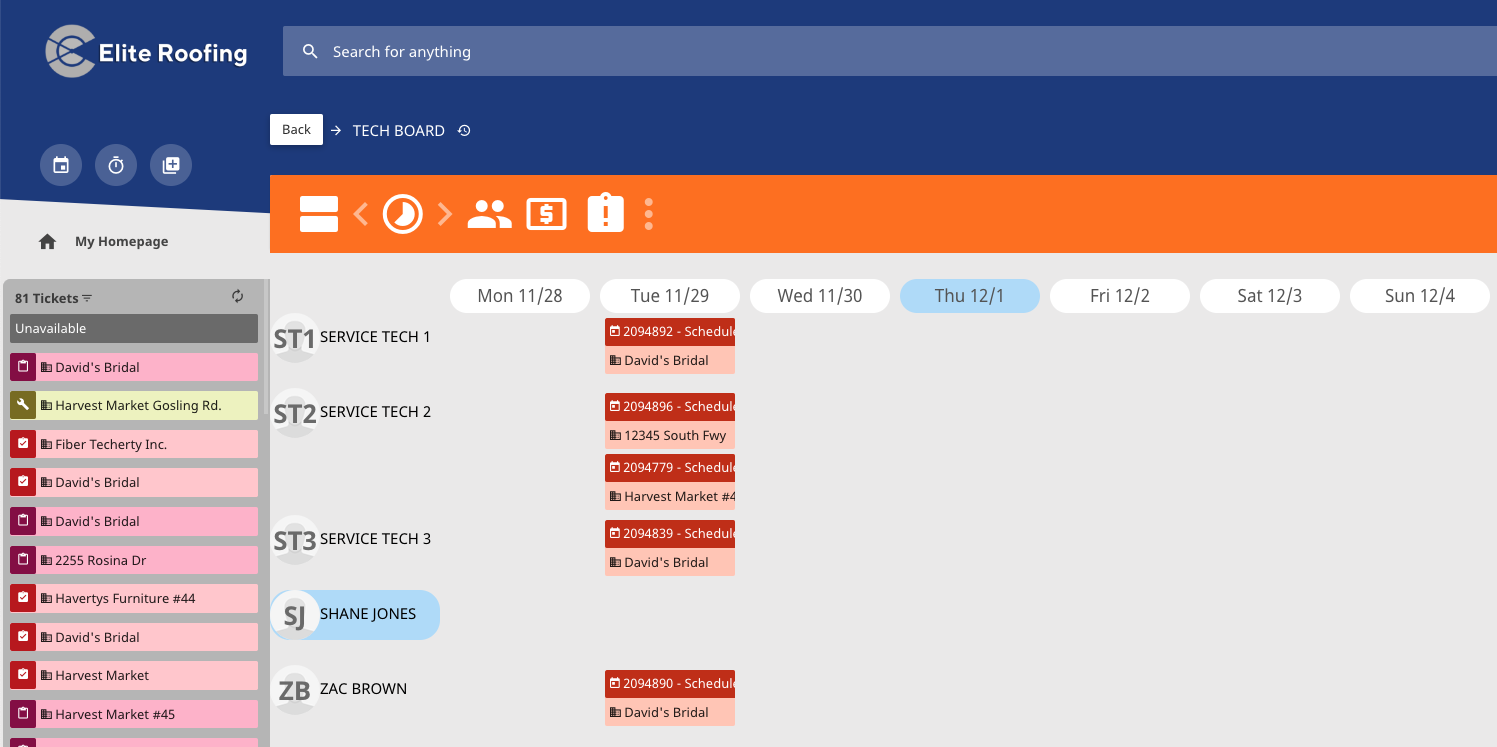 Centerpoint Connect allows you to filter your roofing jobs and schedule them, which automatically sends notifications so you don't have to pick up the phone. This helps you focus on planning your roofing jobs while the software will communicate with your customers and your team. As you assign jobs to your roofing crews they will get an immediate text message from Centerpoint letting them know they have a new job on their schedule. Service crews have field access through our Centerpoint Connect Roofing App which gives them all the details on the job and what is required. From the field, to the office, to the customer, our Roofing Scheduling Software keeps everyone on the same page.
Roofing App Schedule for a Roofer
We know the roofing industry has primarily been a paper and clipboard industry, and Roofing Apps or Roofing Software can be intimidating. We specifically developed our Commercial Roofing Software to be intuitive. It has been adopted by thousands of roofers, technicians, project managers, and crews and labor in the field. Centerpoint Connect Roofing App is opened with one tap and immediately logs the crew to see the schedule. With big icons and a clear picture, the roofer can get started immediately. When the job is opened through the Roofing App the technician/crew is prompted through a workflow based on steps they are already used to taking, making it so the information collected is highly accurate. When you are given accurate information, you can better care for your customers and your bottom line.