A traditional CRM Stand for Customer Relationship Management, which is largely used to track your interactions with prospects and customers. CRM's have grown over the years to adopt many features, but much has fallen short when it comes to a Commercial Roofing CRM.
Benefits and features certainly vary from software providers, but in general, a CRM will offer:
Organizational tools that consolidate your book of business, work order calendars, project management, roofing sales team management, and reporting capabilities.
Framework or workflow for managing customers, staying connected, and retaining client history.
Analytics and features that allow your management team to make business decisions.
Why Use Roofing CRM in the First Place?
CRM software helps by automating processes that you have to do or are responsible for and allows you to delegate to other team members. It can free up your time as well as your team's time if used properly. Just remember, when it comes to a Roofing CRM, garbage in garbage out.
Will a CRM help you work more efficiently? For many roofing replacement businesses, a customer relationship management system is a mission-critical business tool for building a healthier business.
When am I ready for a CRM?
Most Roofing Contractors have a process, whether it's known or it's unknown, there is a way of doing business. Before jumping into any Roofing CRM you want to think through your processes and nail the steps down. How do various leads come into the company and how do we handle them? What are the possible outcomes when visiting a roof? Who is involved in all these steps? You also want to think about what is important to track which we all want to know:
How many new roofing leads came in?
How many quotes did we submit?
What are our close rates?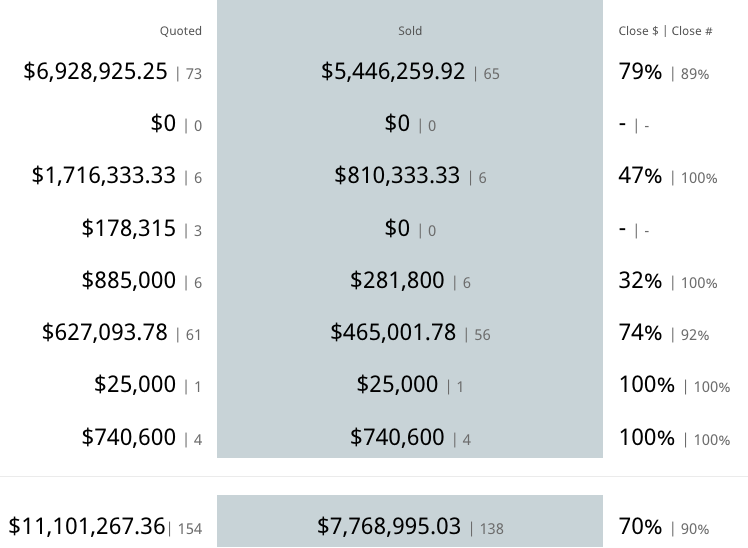 If we plan properly on how a Roofing CRM will help deliver these above results the implementation will be far more successful. Many Roofing Contractors will white board this out before even looking at software providers.
Why is workflow important?
If you take the time to identify each step from lead to sell a job, and then align those steps within a Roofing CRM, your likelihood of success is far greater. We can't manage results unless we start tracking, and we can't forecast until we know our current metrics. Once we plan out our steps it could look something like this:

One of the most powerful features available in Centerpoint Connect is the workflow. Because Centerpoint was developed in a Commercial Roofing Company, it comes pre-loaded with default workflows that were derived from best practices in the industry. If you are more advanced, or wish to create your own workflow Centerpoint Connect allows you to do that too.
The majority of Roofing CRM Implementations fail
We believe the reason for this is a lack of training, understanding how the system works, and a lack of enforcement. In most other CRM's the sales reps often key in their activity at the end of the week all at once, and the level of accuracy goes way down.
With the Centerpoint Connect Roofing CRM the workflows are integrated with the CRM and it makes for a much more user friendly experience. The sales reps, project managers, and other users complete normal tasks in fractions of the time it takes in other systems which increases user adoption. It's also easier for Management to learn how to use which also helps push implementation down to the rest of the team – lead by example!
Too many systems!
The #1 reason commercial roofing contractors prefer Centerpoint is because it replaces various other software systems such as photo storage software, proposal software, estimating software, dispatching software, and project management software. Centerpoint saves time and money and also gives you greater visibility because everything is in one place. The fewer places to look for Roofing Data the more accurate the information is when you do look at it. Whether it's a repair job, open quote, or if a warranty is valid, Centerpoint is the one stop shop especially for the Commercial Roofing Software.

There is a major difference between the needed information on commercial vs. residential. For the Residential Roofing sector, it's very transactional, we really only need to be able to add a contact and create a job. Commercial Roofing information needs to be organized and more granular for ideal record keeping. Centerpoint Connect Roofing Software organizes both commercial records as well as residential records giving a whole new level of business organization.
The industry is evolving
With so many various tools out there built to help Roofing Contractors run their businesses, there is still much more work to be done. Roofing Contractors are evolving at a very fast pace and many are venturing into offering more services such as solar, roof repairs, maintenance, waterproofing, etc. When it comes to offering more services it further complicates the business and pushes harder on the need to have Roofing Software. There are only a handful of Commercial Roofing software providers, but many Residential Software providers. In a perfect world, you would find one that handles both Commercial and Residential, which is exactly what Centerpoint Connect can do for you. Depending on your business and what you want to do with your business now is the time for planning. Most Roofing Contractors purchase software at the end of the year so they can achieve their goals for the upcoming year. It is highly recommended to spend the time planning out the upcoming year vs. doing what you have always done.
Connect with other Roofing Companies, talk with other peers, there is so much information available these days and far more groups available than in past years. Places like LinkedIn, Facebook, Instagram, etc. Are helping connect contractors to better ideas. Centerpoint Connect's true motives are to help advance the Roofing Industry as a whole and while doing so, provide a great customer experience that helps you retain customers.