As 2022 is winding down, contractors begin to look at their business and evaluate improvements that could be made heading into the new year. A massive topic of discussion throughout the commercial roofing industry has been the importance of implementing a Service/Maintenance division. Industry experts such a Chad Westbrook(Sales Alignment), Greg Hayne (Hayne Consulting) and Bryan Mitchell (STG) have been offering courses for commercial roofers who are looking to add this valuable asset to their existing business model. The high profit margins, additional value proposition to customers and long term stability of these service based models has become more sought after than ever before. However, good things don't always come easy and establishing a well defined service department isn't without its challenges.
Well structured service departments provide tremendous benefits to any commercial roofing organization, especially when this division is leveraged as a part of your sales process. Proactively approaching customers with roofing service and repair options positions you  better "service" your clients. Implementing proactive maintenance agreements is also a great way to provide additional value that sets you apart from your competition. Offering your prospective (or existing) customers multiple options on how to best manage their roofing assets is what it takes to thrive in this day and age. The problem is that roofing service work can become tedious to manage through the heavily transactional nature of the business model. Keeping up with roofing service scheduling, roofing service dispatching, documentation, communication, billing and overall roofing service management can be a daunting task if proper procedures are not established. However, having the right process commonly is not the end all be all. These processes and procedures need structure of their own, and the best method to manage it all is by adopting new technologies such as commercial roofing service software platforms.
Technology has made a massive impact on the commercial roofing world over the last 10-15 years and is becoming a staple in commercial roofing organizations throughout the commercial roofing service world. Innovators throughout the industry are looking to change and improve the way these operations are managed. Cloud based SaaS solutions such as Centerpoint Connect's commercial roofing field software provides the tools necessary for contractors to ease the pain associated with commercial roofing service management. Having the ability to electronically schedule work orders, document jobs from a mobile device utilizing an easy to use field software app while simultaneously formatting that data into an invoice ready environment are just a few of the capabilities that Centerpoint provides its users. Adopting this type of roofing service technology gives contractors the ability to offer this highly sought after business model while still maintaining efficient and streamlined processes. The alternative to adopting a commercial roofing service software is utilized paper based procedures that are highly inefficient and essentially put a cap on what a commercial service department is able to produce.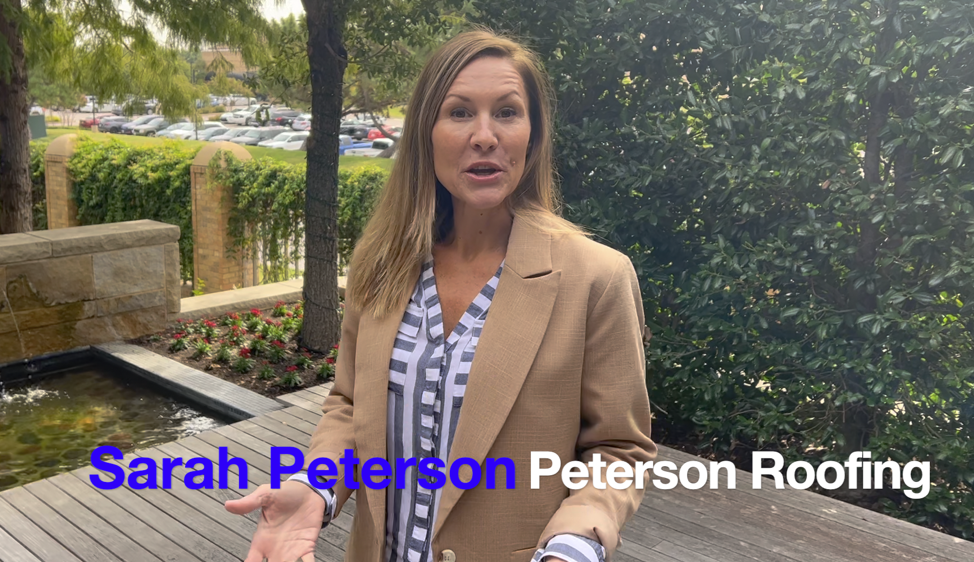 Sarah Peterson and her husband Ben Peterson from Peterson Roofing out of Modesto, California made the decision to adopt Centerpoint's commercial roofing service software for their commercial roofing service management needs back in early 2021.
"When we found you, it was an AH HAH moment for us" Sarah explains during a recent interview at the Transform Conference hosted by Sales Transformation Group in Dallas, TX during early October 2022. "
This is exactly what we need" Sarah expresses, going on to say that
"In order to grow, we needed something that could grow with us. We have been through multiple different commercial roofing software programs. We just knew that we would be able to train people on how to use the field software, including my 70 year old father in law". Sarah goes on to say that "It has changed how we do business and is really the thing that is going to help us go forward with growth for our roofing service business".
Sarah is one of many satisfied Centerpoint customers who have recognized the value their commercial roofing service software offers any commercial roofing service department.
At the end of the day, whether you're looking to start a new service department or improve the processes and procedures of your existing service department, there are resources available to help. Take advantage of modern day innovations such as coaching, technology and industry events to further grow and develop your business. If you're interested in learning more about Centerpoint Connect's commercial roofing service software, check out our website at centerpointconnect.com to schedule a free online consultation and learn more about how Centerpoint can support your commercial roofing service needs.